Negin Yamini Lead Attorney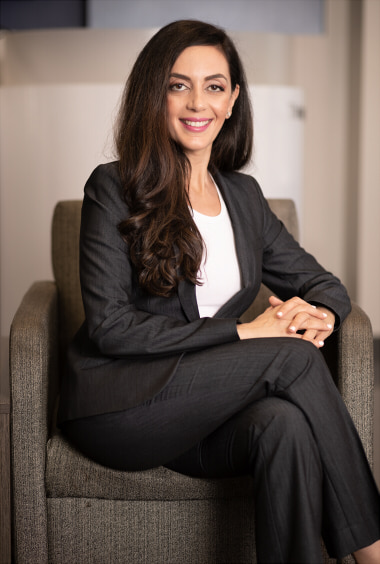 Getting a restraining order is often part and parcel of a bigger criminal case, either for domestic violence or civil harassment, but it can also sometimes be a solo measure in some instances. When you have suffered from violence or the threat of violence from another person - whether or not that person is related to you, you want the highest degree of protection possible under the law, and a restraining (or protective) order is one of the main ways to obtain that protection.
At Restraining Order Attorney, lead attorney Negin Yamini and her dedicated team understand the position of those in need of a restraining order - as well as of those who may have been falsely served such an order and need assistance in responding to it. We deal with all things related to restraining/protective orders in Los Angeles and throughout Southern California - both temporary and permanent such orders.
Our Vision at Restraining Order Attorney?
The fact is, it's not simple, easy, and straightforward for someone unfamiliar with California's restraining order petition process to walk successfully through it. To the uninitiated, it can be confusing what information to provide and how to offer documentation and proof of claims made on the paperwork - plus, open ended questions like "why are you seeking this order" and "what stipulations do you want to include in the petition" can have serious negative impacts later on if answered less than optimally.
Our vision here at Restraining Order Attorney is simple: to facilitate the process of securing an optimally protective restraining order in as little time as possible. We help you apply faster and more effectively and without overlooking important factors like who will pay the rent or mortgage or who will have control over a vehicle while the order is in force.
Our Track Record of Success
Again and again, our clients give us high marks and indicate they are 100% satisfied with our services. That's because we focus on the true needs and preferences of each and every person who comes to us for help, then work doggedly in their best interests from the start to finish.
Our reputation speaks for itself. We have established deep community ties in L.A. County and beyond and receive numerous new clients on a referral basis. Our reviews on Yelp and elsewhere online are consistently positive and only serve to demonstrate that we have a track record of successfully fulfilling our vision and goals for our law firm and for our valued clients.
Why Choose Us?
It's true that there are many attorneys in Los Angeles who offer restraining order related services, but there are far fewer truly excellent such law firms. We at Restraining Order Attorney work hard every day to ensure we are giving you the absolute best-in-industry service and results. Here are 10 good reasons why we think you should choose us to handle your restraining order application process:
Top-tier Legal Expertise. 
We have literally decades of combined experience on our legal staff, and all of our attorneys and supporting staff are well trained. Lead attorney Negin Yamini is not only endowed with exceptional legal skills but has also put together a team of lawyers no less notable for their expertise in this very specific practice area.
Local Experience.
It's not enough to just know the facts about the law, though that is certainly a necessity. You also need to have a working knowledge of the local courts and judges and law enforcement agencies your work will bring you into contact with. We have. We have been here many years and "know the local terrain."
Personalized Attention.
Some restraining order law groups are quick to overload themselves with more work than they can handle efficiently and may even farm some of the "extras" out to less skilled attorneys for a fee. We never do that. We give you and your case the personal attention you deserve!
Negotiation Skills.
A big part of obtaining a satisfactory protective order is having the ability to negotiate with the other party, where possible, or at least to be able to present a good case to the presiding judge if the other party won't cooperate. We are a group of well-seasoned negotiators who pay attention to details and win you the best possible overall order.
Reputational "Clout."
Our reputation with the courts and our history of getting results often gives the opponent's lawyer pause. Our very name carries with it sufficient "clout" that few try to force an unreasonable deal on our clients and those who do don't get away with it.
Undying Tenacity.
We fight for you with grit, determination, and undying tenacity. We never give up and never settle for less than the best possible outcome. Your safety and future may well be at stake, and we put ourselves in your shoes and fight tirelessly in your best interests.
Quick Turnaround.
Getting a temporary or a permanent restraining order approved is certainly an urgent matter that will not admit of unnecessary delay. We, therefore, make speed of processing, without any detriment to quality or carefulness, a top priority when handling your application.
Sterling Customer Service.
Communication is key in handling restraining order requests. It's crucial that we understand the exact desires and concerns of each client and proceed accordingly. We make it a point to do so, and we also keep you updated on your case's progress and keep ourselves ever available if you have any questions to ask us.
Full Professionalism.
We always treat you with respect and dignity. We only ask for information necessary to process your restraining order request and to maximize your chances of getting it quickly approved. We don't judge you, don't pry into your private life, and never violate your privacy or your trust.
24/7 Availability
As getting a restraining/protective order is not a matter that admits of delay, we keep our phones open 24/7/365 to take your call for help. Contact us anytime at 310-928-7581 for a free initial consultation and an immediate start to processing your case!